Adult Christian Formation
The understanding of God's grace in our lives and the fellowship that occurs through this exploration is daily source of inspiration for many of us. At First Presbyterian Church, our members are active in this pursuit of understanding. We gather at 9:30 am on Sundays for studies and classes, and we have groups that meeting during the week for study and to spend time together.
Church School
Visit our Church School page for details on current studies in all Sunday classes. 
Current studies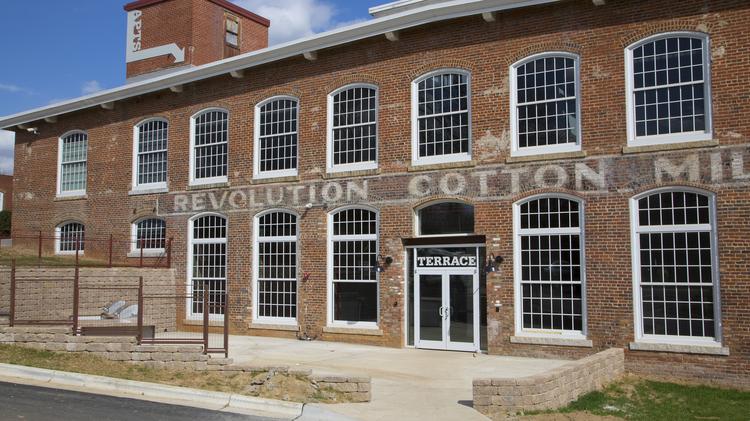 Revolutionary Jesus
Our Christian Formation ministry invites everyone to join us as Rev. Frank Dew leads members of FPC and Saint James Presbyterian in an exploration of the life and ministry of Jesus. We will consider how we might work together to address an issue of racial inequity in Greensboro.
We meet each Tuesday from 6 to 7:15 pm at Revolution Mill's WamRev Gallery, 1250 Revolution Mill Drive (look for signs). Come early and/or stay late for fellowship and snacks. There is no reading ahead of time, and no worries if you can't make every gathering.
Info: Contact Yolanda Baxter, administrative assistant for Christian Formation, at 336-478-4722 or ybaxter(at)fpcgreensboro.org.
ALE-leluia
On first Tuesdays of each month, join Rev. Nate Sell, our pastoral resident, and Matt Logan, young adult director, for a conversation at the intersection of current events and Christian Faith.
Reformed theologian Karl Barth once said: "Take your Bible and take your newspaper, and read both. But interpret newspapers from your Bible."
We will explore how people of faith think about and respond to news here and around the world while we sip adult beverages with friends and neighbors in our community. Folks from all faith backgrounds or no faith background, of young age (21) to old age, are invited to Gather with us.
First Tuesday of each month, 7 pm, at Double Oaks, 204 N. Mendenhall St.
Coming in June
Join Rev. Neil Dunnavant's newest short story study, "Reading Together the Stories of Anton Chekhov: Reflecting on the Christian Life" on Sundays in June at 9:30 am. If you'd like to read ahead, here are the Chekhov stories we'll be discussing:
For further reading, Neil recommends Chekhov's In the Ravine. 
Gather (young adults)
In our Gather groups, Young Adults fellowship together, study together, pray together, and serve together. Email Matt Logan, our director of young adult ministry, to learn more: mlogan(at)fpcgreensboro.org.
Gather Small Group 1
Mostly for those who are married with young children. Group 1 meets every other Wednesday in member homes. Child care is provided by the members of the group.
Gather Small Group 2
Mostly young professionals without children. Group 2 meets every Wednesday at 7 pm. 
Soularium
Meets on Sundays at 9:30 am in Cannon's Solarium. Rev. Nate Sell, Cynthia Price Pastoral Resident, and Matt Logan, Director of Young Adult Ministry, lead the discussion which is open to adults of all ages.
Gather Serve
We will address food insecurity in our community.
Connect with these and other Gather opportunities: Contact Matt Logan, mlogan(at)fpcgreensboro.org.
Church School classes
Visit our Church School page for details on current studies in all Sunday classes.
Adult Music Groups
First Presbyterian offers many musical opportunities for adults, including Chancel Choir, Rejoice! Ensemble, and two Handbell Choirs. Visit our music page for more information and to register.
Congregational Care groups
See our Congregational Care page for information about support groups and prayer groups.
Now under way
Grow, Hike, Pray: Spiritual Practices for Today
"Everything old is new again," or so they say. For the months of March, April, and May, Pastoral Resident Nate Sell will lead a class on ancient spiritual practices for today. Gardening, Pilgrimage, and Prayer are in the DNA of Christian spirituality, but for many, these spiritual practices are unknown and daunting. As a group, we will explore the basics of how these practices can foster spiritual growth through experience, readings, documentaries, and discussion. No experience necessary! Classes will meet Sundays at 9:30 am in the Solarium. Participants are welcome for all segments of the class or only the practices that appeal to them.
March 3-24 will focus on gardening
March 31-April 21 will explore pilgrimage
April 28- May 26 will investigate prayer.
Three main experiences will ground the class. Please email Nate if you are interested in one of these experiences, as space will be limited -- nsell(at)fpcgreensboro.org. First come, first serve! 
March 30: Garden Workday at Peacehaven 
April 6-7: Intro to backpacking overnight with Sunday morning Communion service
May 4-5: Silent Retreat at St. Francis Springs. 
Men's Retreat in April
The 2019 Men's Retreat will be held Friday, April 12, at the Bennett Farm in Stoneville. Men will Sing to the Lord a New Song (or an old song in a new way) as they gather in the barn, wander the grounds of the farm, and explore the nature of their spiritual lives together through activities and discussions. Register here. 
Presbyterian Women Luncheons
Second Monday of the month at noon in Mullin Life Center. Get your ticket ($8) by the Wednesday prior to each lunch: 336-478-4799 or receptionist(at)fpcgreensboro.org.
Presbyterian Women Circles
This fall our circles are studying "God's Promise: I Am With You" by Amy Poling Sutherlun.
Circles meet at the following times:
Deborah's Dining & Discussion
Third Mondays, noon, Garden Room. Led by Ginny Hayes & Darlene Young.
Mary and Martha
Second Mondays, 10:30 am, Blair Hagan Room. Led by B.J. Williams & Sue Harden.
Sallie Huss
Second Mondays, 10:30 am, Myers Loyalty Room. Led by Gail Derkasch.
Hearts and Minds
Third Mondays, 10 am, member homes: September, Rosa McNairy; October, Jane Jackson; November, Betty Hannaum; December PW Luncheon. Led by Betty Jo Forney.
Ruth and Naomi
Third Tuesdays, 10:30 am, Blair Hagan Room. Led by Anne Cox.
Small groups
Monday Evening GIFT (Growing in Faith Together)
This GIFT group is for women ages 20s-30s. It meets in members' homes. Contact Aimee Scotton at 336-854-7770.
Currie Library Book Clubs
Currie Library has two book clubs that meet monthly between September and May. One group meets on second Mondays (except December) at 10:30 a.m., and the other meets on second Tuesdays at 1:30 p.m. See our 2018-19 reading selections.
Wednesday Morning Men's Fellowship Group
On Wednesday mornings, a men's group meets at 7:30 am in Blair Hagan (Memorial 100). Contact Wil Courter to learn more.
Community Service Group
These ladies meet for fellowship and a devotional while hand-crafting blankets, lap robes and more items that are distributed every year to people in need in our community and beyond, 10 am on Wednesdays in the Garden Room, Smith 124. Contact: B.J. Williams, 336-288-8601, Hannah Britt, 336-288-9289, or Nancy Jewson, Well-Spring coordinator, 336-288-0333. During the summer, the group meets once a month.
Almanah Get-Together
Almanah, the newly organized group for widows at FPC, meets at a restaurant for lunch or dinner occasionally, so if you are looking for fun and fellowship, you are welcome to join us. Contact Becky Peters, becky_p@bellsouth.net, for information about upcoming events.
Women's Wednesday Bible Study
Wednesdays, 7:30-8:30 am, Garden Room. Led by Betsy Harrington, betsyharrington@triad.rr.com.

Adult CE Staff

Christian Formation on FPC Plus
Search our complete list of groups on our FPC Plus database.